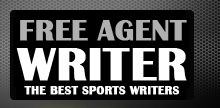 Yankee Addicts
Categories
Featured Sponsors
February 2010 Archive
February 28, 2010
With the 2010 NFL Scouting Combine drawing to a close this week, we're approaching that special time of the year when teams snag new players. Free agency begins on March 5th ...
February 28, 2010
It's Super Bowl XLIV!  The Saints and the Colts.  Peyton vs. Brees.  And, of course, it is held in Miami (10th time ever). Referee Scott Green flips the coin in the ...
February 28, 2010
Heading into the 2010 NFL combine, many people said Bruce Campbell was the fifth best talent at OT in the draft this year. Coming out of the combine, the Oakland ...
February 28, 2010
Jevan Snead looks at the world through a pair of rose colored glasses. When the media talks about the 2009 Ole Miss Season, critics think of it mostly as a disappointment. ...
February 28, 2010
INDIANAPOLIS - St. Louis Rams' coach Steve Spagnuolo said he would like to find a quarterback that has the same kind of leadership intangible like James Laurinaitis, whom ...
February 28, 2010
If there's one thing you now can definitively say about Jacoby Ford now, it's that he's fast.   Ford posted a 4.28-second 40-yard dash speed, the second fastest since 2000 and the ...
February 28, 2010
A day after Billy Devaney talked about Sam Bradford's shoulder, St. Louis Rams head coach Steve Spagnuolo said he agrees with his general manager "100 percent." Devaney said Friday ...
February 28, 2010
The quarterbacks have just finished up there drills and events at the NFL Scouting Combine and despite many of the top quarterbacks not throwing until there respective Pro Days, there ...
February 28, 2010
Every year, guys surprise that many fans didn't know coming in but can boast that they've heard of a guy who could be a future NFL Pro Bowler. But, when a ...
February 28, 2010
One of the things that everyone seems to forget about the NFL Combine is that there are other players on the market besides the 2010 NFL Draft class; there are ...