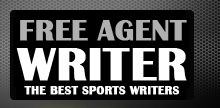 Yankee Addicts
Categories
Featured Sponsors
May 2010 Archive
May 31, 2010
The Indianapolis Colts had a great run during the 2009-10 NFL season. They had a 14-0 run and took a rest during the last two games of the season, which ...
May 31, 2010
In the past two seasons, there has been an emerging trend among receivers that come forth from that year's draft and distinguish themselves as immediate playmakers: small body and plenty ...
May 31, 2010
The AFC West has had a lot of big moves over the offseason. The Raiders ended up releasing JaMarcus Russel, the Broncos released Brandon Marshall, but picked up Jamaal Williams, ...
May 31, 2010
With no free agent signings thus far and only rookie strong safety Morgan Burnett expected to make a run at the starting line up, the Packers will enter the 2010 ...
May 31, 2010
To some, San Francisco Forty Niners second year Offensive Coordinator Jimmy Raye has much to prove. Wait. Let me back up. Did I just say second year ...
May 31, 2010
The quarterback is the most important position for any football team besides the offensive line. There are so many on the rise quarterbacks in the NFL today. Look at: Aaron ...
May 31, 2010
If you're a Detroit Lions fan, there is excitement about the organization going in a positive direction. The past few drafts show there is a change in direction as the franchise ...
May 31, 2010
A new version of "Sing a Song of Sixpence" would go like this: Sing a song of sixpence Pocket full of rye. One and Ten Oakland Raiders, Baked in a pie. When the pie was opened, the ...
May 31, 2010
The San Francisco 49ers have been one of the more underrated teams in the league. All the way out on the west coast, this young club is unknown to many ...
May 31, 2010
The Steel Curtain was the nickname given to the famous defensive line of the American football team Pittsburgh Steelers during their 1970s dynasty years. This defense was the backbone of the ...