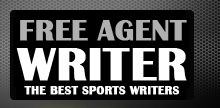 Yankee Addicts
Categories
Featured Sponsors
July 2010 Archive
July 31, 2010
  Predictable. Boring. Uninspiring. Three superlatives that defensive coordinators do not want to hear in their defense's scouting report. However, these three accurately define the 2009 Giants defense, sans one last characterization: downright awful.  Let's ...
July 31, 2010
Philadelphia Eagles standout WR DeSean Jackson being injured in training camp is the last thing any fan wants to hear, and when I read Philly.com Jeff McLane's article I nearly ...
July 31, 2010
Broncos head coach Josh McDaniels has created a ferociously competitive atmosphere, which has intrigued fans who are anticipating various outcomes of the roster spot battle's in training camp. JJ Arrington has ...
July 31, 2010
Steelers' quarterback Ben Roethlisberger is currently suspended by the NFL for six games due to his disorderly conduct in Georgia this offseason. His suspension may be reduced to four games ...
July 31, 2010
Break time. OK, Chargers fans. We have absolutely killed the holdout articles. Unless anybody has any late breaking news, let's let it rest and be creative. Ah, I got a good ...
July 31, 2010
The Crennel Era was in shambles after the 2008 season. The team went 4-12, and quite frankly needed a reboot. The team quickly hired Eric Mangini, who coached the Jets ...
July 31, 2010
As the NFL game has shifted its focus to the passing game, the importance of the wide receiver position in fantasy leagues has reached new heights.  In 2009, 20 receivers had ...
July 31, 2010
According to NFL Network's Jason La Canfora, the Cleveland Browns and rookie first round pick Joe Haden have agreed to terms on a five-year deal worth upwards of $50 million, ...
July 31, 2010
The biggest addition by subtraction was the release of JaMarcus Russell. Russell was a cancer to this team. Looking back to the Jets game, it was one of the worst ...
July 31, 2010
J.J. Arrington has been a Bronco for two years, but he will not play a game for the team. In a surprise move, Denver traded the running ...