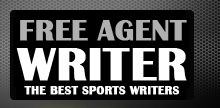 Yankee Addicts
Categories
Featured Sponsors
February 2011 Archive
February 28, 2011
Today was day four of the NFL combine, which brought the QBs, RBs and WRs to Lucas Oil Stadium. They didn't disappoint. In perhaps the flashiest day of the combine ...
February 28, 2011
After getting praised and blasted, depending on the day, for my ongoing Two-A-Day series, I have an idea that is different for the NFL fans of Bleacher Report. We all are ...
February 28, 2011
In many ways, coaching in the NFL is a thankless job.  Yes, you get paid well, but you are under constant pressure, and if things don't go right, you'll have ...
February 28, 2011
The Washington Redskins had a season to forget, and enter the offseason with more questions then answers. This isn't out of the ordinary for the Redskins, who have a new ...
February 28, 2011
With the 2011 NFL combine underway, Mike Shanahan, Bruce Allen, and the Washington Redskins are beginning to prepare the for 2011 NFL Draft.The Redskins have a lot of needs coming ...
February 28, 2011
Due to losing players via free agency, trades and good ol' Father Time, contenders eventually reach the point where they have to rebuild. Other teams may have had an awful ...
February 27, 2011
The NFL doesn't get quite the trade buzz that the NBA and MLB usually get, but this offseason is much different.There are a flurry of teams and players out there ...
February 27, 2011
With the CBA not in place, it is becoming increasingly likely Kevin Kolb remains backup to Michael Vick. If the Eagles stick with Kolb as backup next season, the Eagles will ...
February 27, 2011
Sunday was a hugely important day at the NFL Scouting Combine, as today was the day when the running backs, wide receivers, and quarterbacks came out to strut their stuff. ...
February 27, 2011
So, the bosses want me to tap into my inner-GM again. This ought to be fun.My mission: take the most glaring weakness with each NFL team, and find someone to ...