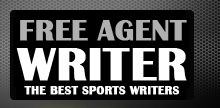 Yankee Addicts
Categories
Featured Sponsors
January 2012 Archive
January 29, 2012
For some players, the Senior Bowl is a forgettable experience.For these players, they definitely wish they hadn't gone to the Senior Bowl. Each of them hurt his draft stock. In ...
January 29, 2012
Brandon Weeden erased a head-turning week of practice with a horrible showing in the Senior Bowl, and with that, the senior QB from Oklahoma State just made his uphill NFL ...
January 29, 2012
One of the best things about the Super Bowl is that there are so many things that are unknown heading into the game. It seems like every year something happens ...
January 29, 2012
"We always talk about here how you need to have talent and character. You can't have one without the other. I think we have good players and good people."  Jets ...
January 29, 2012
Outstanding quarterback matchups are par for the course at the Super Bowl, so on the face of it, there's no reason Tom Brady and Eli Manning should necessarily produce an ...
January 29, 2012
With the 2012 NFL Pro Bowl just a day away, we can now reflect on the rosters for this season.Granted, there will be some players missing as the New York ...
January 29, 2012
The annual Senior Bowl is one of the many parts of the NFL Draft process. It gives the participating prospects an opportunity to showcase some of their talents and maybe ...
January 29, 2012
Entering Super Bowl XLVI, New England Patriots quarterback Tom Brady has 16 career postseason wins, which is tied for most all time with Joe Montana.That may be one thing that ...
January 28, 2012
It wasn't that long ago that the 2011 New York Giants were a 7-7 football team in turmoil, with a head coach on the hot seat and looking like they ...
January 22, 2012
The San Francisco 49ers take on the New York Giants in a 2012 NFC Championship Game that will feature a bunch of players who could end up being a x-factor.The ...