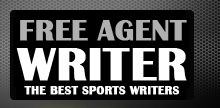 Yankee Addicts
Categories
Featured Sponsors
July 2012 Archive
July 31, 2012
The Indianapolis Colts finally kicked off the 2012 campaign by opening training camp last weekend. The team will look vastly different this year compared to previous teams of the last ...
July 31, 2012
One of the biggest storylines around the New England Patriots offense has been how tight ends Aaron Hernandez and Rob Gronkowski will be incorporated into offensive coordinator Josh McDaniels' attack. ...
July 31, 2012
Over the weekend, the Chicago Bears held one of their first full-contact workouts of the 2012 training camp in Bourbonnais. On Sunday, Bears' head coach Lovie Smith had the third ...
July 29, 2012
The New England Patriots are in training camp priming for the 2012 season, but a familiar face is missing: right guard Brian Waters.The veteran offensive lineman started all 16 regular-season games ...
July 29, 2012
Three Chicago Bears rookies have showed up and made a nice first impression through the first three practices. On offense, rookies Evan Rodriguez and Alshon Jeffery have caught the eyes of ...
July 29, 2012
Saturday was the first day of full-pads practice at New England Patriots training camp, and judging by the massive crowd, Patriot Nation was eager to see some tackling. Just missing ...
July 29, 2012
Steve Smith thinks the Carolina Panthers can be a scoring machine. At least he is optimistic about their chances. According to the Charlotte Observer's Joe Person, Smith talked ...
July 29, 2012
What's the deal with the recent hubbub surrounding the newest Miami Dolphin, Ryan Tannehill? I don't understand the love affair some have with the former Texas A&M quarterback.Is it just because ...
July 29, 2012
Wide receiver Devin Hester twisted his ankle during the second practice of training camp, and as a result is out for the first day in full pads. Hester was making quite ...
July 29, 2012
With the NFL becoming a more "pass-happy" league, teams are relying more on quarterbacks and the weapons around them to score. Although there are still dominant running backs in the league, wide ...