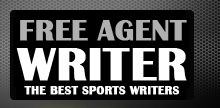 Yankee Addicts
Categories
Featured Sponsors
October 2012 Archive
October 31, 2012
The Bears took some time to get going, but they walked away from their tougher-than-expected matchup with the Carolina Panthers with a win.As I said at the time, there is ...
October 31, 2012
After seven games, the Steelers sit at 4-3 and are one game behind first-place Baltimore in the AFC North. The Steelers are riding a two-game winning streak and have drastically ...
October 31, 2012
Brandon Myers only received three targets against the Chiefs, but credit his light usage to the Raiders posting a rare big lead on their opponent. On the other ...
October 31, 2012
If you were one of those fantasy owners who took a shot on Matthew Stafford in the second round of your draft this summer, it's been a disappointing ...
October 31, 2012
It's starting to get ugly in Philadelphia.The Eagles fell to 3-4 after a 30-17 loss at home to the undefeated Atlanta Falcons.  Philadelphia has now lost three straight games after ...
October 31, 2012
New Orleans, we have a problem. It's called the Saints defense. The unit ranks last in nearly every statistical category known to man. And despite Steve Spagnuolo's assertion that "Stats don't measure ...
October 31, 2012
The Detroit Lions have acquired wide receiver Mike Thomas in a trade with the Jacksonville Jaguars, according to Mike Florio of profootballtalk.com. Thomas has only 13 receptions and has accumulated ...
October 31, 2012
By now, fantasy football owners know who is going to produce for their squads. Players have established themselves as studs or duds eight weeks into the NFL season, and Week ...
October 31, 2012
It's a big AFC West matchup in Week 9 as the Kansas City Chiefs head to San Diego to take on the Chargers.The Chiefs (1-6) were a chic pick before ...
October 28, 2012
The New York Giants have played in Dallas three times since Jerry Jones opened his new Cowboys Stadium. Eli Manning is making a habit of autographing the wall in the ...