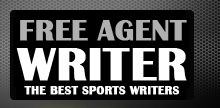 Yankee Addicts
Categories
Featured Sponsors
November 2012 Archive
November 30, 2012
The disastrous New York Jets (4-7) are at a vital crossroad as they prepare for their Week 13 matchup at home against the struggling Arizona Cardinals (4-7). How will the Jets respond ...
November 30, 2012
The Buccaneers (6-5) travel cross-country to the Mile-High City of Denver, Colorado to take on the Broncos (8-3) on Sunday afternoon.The Bucs come in having won five of their last ...
November 30, 2012
Following is a look at this week's NFL schedule and some historical stats on the head-to-head matchups. Jacksonville vs. Buffalo: The Jaguars hold a slight 6-5 lead in the series. ...
November 30, 2012
The Atlanta Falcons apparently failed to get the memo from New Orleans Saints QB Drew Brees. Prior to the Thursday night tilt, Brees emphatically informed his fellow Saints, "This is ...
November 30, 2012
The Green Bay Packers are currently looking at a record of 7-4 after being blown out last week. As I made the point in an article earlier this week, there is ...
November 30, 2012
The New York Jets have continually struggled this season, both on offense and defense, and are now an organization of disaster.  Unless some major moves are made quickly, Gang Green ...
November 30, 2012
Much like the Bears, the Seattle Seahawks rely on a stout defense that can get to the quarterback and can create turnovers.Their defense ranks No. 5 in the league in ...
November 30, 2012
Whether you may like to make parlay bets with the Vegas odds, join NFL pools at wor, or simply just make friendly bets with your buddies, there are three teams ...
November 30, 2012
Ndamukong Suh and Jared Allen both were fined for plays they made last weekend. However, Allen is far less vilified for his actions than Suh, though the Vikings defensive end's ...
November 30, 2012
The Washington Redskins 2012 season has had its fair share of ups and downs. The Monday Night Football game this week against the New York Giants is a make-or-break moment for the ...