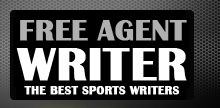 Yankee Addicts
Categories
Featured Sponsors
March 2013 Archive
March 30, 2013
The Oakland Raiders' shifting offensive philosophy toward a power rushing attack makes Seattle Seahawks QB Matt Flynn a nice fit should GM Reggie McKenzie pull the trigger on a prospective ...
March 30, 2013
Just about anytime there is talk of an available quarterback, whether it be a rookie or veteran free agent, there is almost an instant connection made to the Raiders.  Vince ...
March 30, 2013
Last week, I floated the idea of Brian Urlacher for the New York Giants.After it was announced that the Chicago Bears and Urlacher couldn't come to an agreement on a ...
March 30, 2013
The Dolphins are edging toward filling all their needs before the draft.They knocked another one off the list on Saturday by signing former Falcons cornerback Brent Grimes, as reported by ...
March 30, 2013
Back in January, Matt Miller and I took a look at the Detroit Lions' draft needs heading into the NFL's offseason, knowing there was a good possibility that free agency could (and ...
March 30, 2013
The majority of NFL teams will see significant improvements to their roster in 2013 thanks to the impending draft class' outstanding depth at nearly every position.There isn't a plethora of ...
March 30, 2013
The Kansas City Chiefs have made several moves this offseason indicative of a team looking to make a big turnaround from their 2012 season.The hiring of Andy Reid as head ...
March 30, 2013
The Miami Dolphins continue to add pieces this offseason, as the AFC East club has reportedly signed free-agent cornerback Brent Grimes according to ESPN's Adam Schefter. Pro Football Talk reports ...
March 30, 2013
Evaluating an NFL contract remains one of the more difficult and complex processes in sports today. But that never stops the court of public opinion from weighing in on the ...
March 30, 2013
Now that the majority of Pro Days have passed, Scouts and GMs around the league are preparing to enter their war rooms. Manti Te'o has run a (slightly) faster 40-yard dash ...