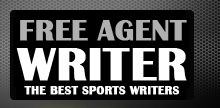 Yankee Addicts
Categories
Featured Sponsors
June 2013 Archive
June 29, 2013
He jogged toward us, his eyes piercing, his face ruddy from years of playing in the NFL. The physique was still in fine form, despite having been retired for a ...
June 29, 2013
Defining the phrase "biggest role" when it comes to rookies in the NFL isn't an easy task. At least, it's not as cut and dried as one would think. By ...
June 29, 2013
Optimism typically dominates the football world during the month of June, but the reality is that there will be approximately as many disappointments as there are surprises this year. Injuries ...
June 29, 2013
The one question I'm asked most by readers, Twitter followers and prospective writers is, "How do you break down NFL prospects?"It is also one of the toughest questions to answer ...
June 29, 2013
Ever since Isaac Bruce and Torry Holt left town, the St. Louis Rams have been in desperate need of a game-changing wide receiver. The organization hasn't employed a 1,000-yard wideout ...
June 29, 2013
There is no shortage of candidates for the title of the NFL's worst starter. Just like no one can agree who is the best player in the NFL, few can ...
June 29, 2013
The infamous tuck rule is dead. The scourge of Oakland was eradicated a dozen years too late for Raiders fans, but the dumbest rule in the NFL is no more. Thanks ...
June 29, 2013
In light of Aaron Hernandez's arrest and murder charge and his subsequent release from the team, the New England Patriots are offering a two-day window to exchange the tight end's ...
June 28, 2013
In all likelihood, the Washington Redskins' second-year quarterback Robert Griffin III and 16-year NFL veteran linebacker London Fletcher will begin the 2013 NFL season as the teams co-captains. Under head coach ...
June 28, 2013
The New York Giants are trying to rebound from a disappointing 2012 season, and as they do so, it will be with a new tailback taking the reins in the ...