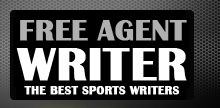 Yankee Addicts
Categories
Featured Sponsors
July 2013 Archive
July 30, 2013
One of the big story lines since the Bears hired Marc Trestman as their head coach was his ability to fix quarterback Jay Cutler's mechanics. However, they're not nearly the ...
July 30, 2013
Perhaps the photo taken of Green Bay Packers rookie running back Eddie Lacy at Monday's practice was shot from a bad angle. Perhaps the second-round pick did gain a little ...
July 30, 2013
Vernon Davis disappointed fantasy football owners last year, but he's ready to explode with a monster season for the San Francisco 49ers. Davis isn't the only legitimate veteran star who will ...
July 30, 2013
The Jacksonville Jaguars picked a bad year to be a bad football team. After finishing 2-14 a season ago, Jacksonville entered the 2013 NFL draft with the No. 2 overall pick ...
July 30, 2013
One reason talking heads don't see the Atlanta Falcons as the sexiest pick to win the NFC is because of an apparent lack of improvement in the trenches.  While the Falcons ...
July 30, 2013
There are two things wrong with buying beer at the stadium: the price and the long lines. Thankfully, the San Francisco 49ers are trying to solve one of those headaches ...
July 30, 2013
Believe it or not, a rather respectable collection of free agents are still on the market.  Sure, that market is exceptionally picked over, but it doesn't mean the players available can't ...
July 30, 2013
It's a fine line that the NFL walks in the 21st century. As evidence mounts about the severe long-term effects of head trauma, the NFL has made player safety a point ...
July 30, 2013
The Oakland Raiders are going through a transition.  Among the many changes in Oakland are nine new starters on defense, a new starting quarterback and a new offensive scheme. Only ...
July 30, 2013
Parity is certainly alive and well in the NFL, even if there are a few teams that seem to always be vying for a championship each year.  One thing you can ...