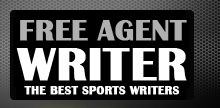 Yankee Addicts
Categories
Featured Sponsors
August 2013 Archive
August 31, 2013
Alex Green is no longer a member of the Green Bay Packers. The running back took to Twitter to thank the fans for their support after being released: Jason Wilde of ...
August 31, 2013
Fantasy leagues cannot be won in the first round, but they can be lost. The first round is the most critical element in all of fantasy football. Owners who nail the ...
August 31, 2013
As is the case in every NFL season, injuries and ineffectiveness will plague every fantasy owner at the running back position, but don't worry because there are some young, unheralded ...
August 31, 2013
With Mark Sanchez on the shelf due to a shoulder injury, the door is open for Geno Smith to be the New York Jets' starting quarterback in Week 1. According ...
August 31, 2013
The New York Jets released quarterback Greg McElroy and have kept Matt Simms on the 53-man roster heading into the regular season, according to Randy Lange of NewYorkJets.com: Greg McElroy was ...
August 31, 2013
When the New England Patriots signed Tim Tebow earlier this summer, there was much speculation as to what it would mean for the journeyman passer.  Would he be a backup/successor to ...
August 31, 2013
General manager Ted Thompson is now in his ninth season running the front office of the Green Bay Packers. Thompson has a very favorable track record in terms of wins ...
August 31, 2013
First, John Elway said no. He may understand a little something about the quarterback position. Elway decided he'd seen enough of Tim Tebow. Tebow was sent packing to the New York ...
August 31, 2013
Even though the Kansas City Chiefs underwent a big change in their front office with a new general manager and a new head coach, they still have a shot at ...
August 31, 2013
For approximately 704* NFL hopefuls, the days of Aug. 30 and Aug. 31 will lead to their livelihood being put in grave jeopardy. NFL teams have until 6 p.m. ET Saturday ...