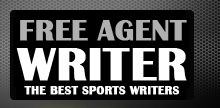 Yankee Addicts
Categories
Featured Sponsors
September 2014 Archive
September 30, 2014
A quarter way through the NFL season, some teams have been avoiding national attention by flying under the radar in their divisions.Is there a team other than the Bengals in ...
September 30, 2014
Free-agent running back LaMichael James has found a new NFL home, agreeing to a contract with the Miami Dolphins on Tuesday. James' agent Jeff Sperbeck had the news: Andrew Abramson of The ...
September 30, 2014
Four weeks of the 2014 NFL season are in the books, and there are coaches around the league who are either being praised too much or not enough for their team's ...
September 30, 2014
Teddy Bridgewater's debut start was an impressive one, despite leaving early due to a minor injury. Is this a sign of things to come from Bridgewater?Bleacher Report's Chris Simms and CBS' ...
September 30, 2014
A lot of fantasy football owners will be scrambling to the waiver wire if their seasons aren't off to a great start ahead of Week 5's NFL slate. But which ...
September 30, 2014
The Colts have been in the news a lot lately for the wrong reasons. Linebacker Robert Mathis and, as reported by ProFootballTalk's Michael David Smith, safety LaRon Landry were suspended ...
September 30, 2014
There are a handful of teams in the NFL that are dependent on the success of their signal-caller on the field. Some quarterbacks have little to work with yet still ...
September 30, 2014
Calvin Johnson has been the primary engine driving the Lions offense since he arrived in Detroit as the No. 2 overall pick of the 2007 NFL draft. When Megatron has missed ...
September 30, 2014
Quarterback Eli Manning has become more comfortable, more accurate, more poised. The running game has taken off in a major way. Even the much-maligned, depleted defense has tightened up with ...
September 30, 2014
Playing in the 136th regular-season game of his career, San Francisco 49ers running back Frank Gore recorded a career-long 55-yard reception in Sunday's 26-21 win over the Philadelphia Eagles, per ...