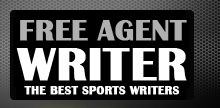 Yankee Addicts
Categories
Featured Sponsors
November 2014 Archive
November 29, 2014
Running back Ray Rice is free to sign with and play for any NFL team that will have him, but at least one team starved for backfield help reportedly won't ...
November 29, 2014
Thanksgiving Day featured a little something for everyone. Bettors had three enticing matchups to choose from, fantasy enthusiasts saw plenty of stars take the gridiron and fans of the NFL ...
November 29, 2014
Every successful team must learn how to win in enemy territory, and there are several potential contenders that will have an opportunity to prove they can do precisely that in ...
November 29, 2014
Several fantasy studs went down with injuries in Week 12, leaving owners scrambling for replacement options.Who are some players to add at the last minute if your starter is out ...
November 29, 2014
As the Bears' latest loss played out on national television against the Lions, it became clearer than ever this team isn't going to the postseason. Now with a quarter of ...
November 29, 2014
Last week, your boy—the esteemed captain of #TeamDegenerate—ran off to a 6-2 start against the spread. I was feeling good. Real good. Too good, in fact, since I finished on ...
November 29, 2014
Riffs, rants, observations and dissenting opinions from the voices in my head: Here's a warped and dented take on this weekend's games that prepares us for the post-Odell Beckham Jr. ...
November 29, 2014
Fantasy football and the NFL don't always go according to plan or expectations. For example, you see an aerial assault between future Hall of Fame quarterbacks Tom Brady and Aaron Rodgers. We see ...
November 29, 2014
Week 13 across all of fantasy football is a crucial one ahead of the postseason. With the Thanksgiving slate of games already finished, owners are looking ahead to the intriguing ...
November 29, 2014
The Indianapolis Colts will be looking to add another win in Week 13 to maintain their lead in the AFC South, and they'll be trying to do it against Washington. At ...