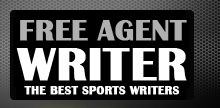 Yankee Addicts
Categories
Featured Sponsors
July 2015 Archive
July 18, 2015
Police in Clayton County, Georgia, announced the alleged girlfriend of former Buffalo Bills tight end Buster Barnett, Lisa Brown, kidnapped and murdered Barnett's wife, Sandra Barnett, before killing herself, per WXIA-TV in ...
July 17, 2015
Adrian Peterson was indicted on charges of child abuse early in the 2014 NFL season, resulting in him only participating in the first game.The 2012 NFL Most Valuable Player ultimately pleaded no contest ...
July 17, 2015
One statement was made more often than any other during the 2015 NFL draft. Jameis Winston will have an easier transition to the NFL than Marcus Mariota. While the words weren't always ...
July 17, 2015
NFL vice president of officiating Dean Blandino knows that his job is all about evolution and making the sport of football more consistent with everything from the handling of footballs ...
July 17, 2015
Free-agent running back Chris Johnson understands he may need to wait a while before another NFL opportunity arises. Yet after surviving a drive-by shooting that killed a close friend, the ...
July 17, 2015
Nobody is worried about the Pittsburgh Steelers offense. Potential future Hall of Fame quarterback Ben Roethlisberber is coming off a career year in which he led the league in passing yardage ...
July 17, 2015
The Oakland Raiders have high expectations in 2015, especially after drafting wide receiver Amari Cooper out of Alabama to help the passing attack. What is the key number surrounding this Raiders ...
July 17, 2015
The NFL's franchise tag has become the subject of debate over the years, and some believe it's unfair to superstar players. Should the tag be abolished? Why might it be unfair ...
July 17, 2015
Science is expensive. Tracking the polar ice caps, analyzing the heavens—it all takes equipment and people smart enough to use it, which in turn costs boodles and oodles of dollars.The Large ...
July 17, 2015
Arizona Cardinals defensive back Tyrann Mathieu teamed up with PETA to star in a public service announcement on the potential consequences of leaving a dog inside a hot car.To demonstrate ...