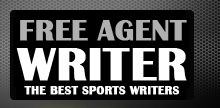 Yankee Addicts
Categories
Featured Sponsors
October 2015 Archive
October 31, 2015
The NFL has staged a battle of 6-0 teams just four times in league history. In Week 8, on Sunday Night Football, the Denver Broncos and Green Bay Packers will ...
October 31, 2015
Any fantasy football players relying on New England Patriots stars started Week 8 right. Tom Brady shared the wealth during a 36-7 blowout over the Miami Dolphins, leading Dion Lewis, Julian ...
October 31, 2015
It might not dominate the headlines yet, but it's NFL trade rumors time with the deadline on approach.  Maybe it would be wise to add this to the tail end of ...
October 31, 2015
In this week's Game Previews, we will: Go deep inside the mysteries of Andy Dalton's new haircut. Discover whether Dez Bryant's return will help the Cowboys or just add a third ring ...
October 31, 2015
It's not about how many times you get knocked down, it's about how many times you get back up. The New York Jets hope to accomplish the latter after suffering their ...
October 31, 2015
Name recognition is no longer important in fantasy football. It doesn't matter what a player has done in the past or where you drafted him; all you should care about ...
October 31, 2015
With the weekend here, it's flex analysis time ahead of Week 8's weekend slate. Last week, owners brave enough to flex Dallas Cowboys running back Darren McFadden in standard leagues got ...
October 31, 2015
Do you hear that? The holidays are coming. Maybe you've already seen a commercial or two. As we roll on into November, don't let your record get you down or make ...
October 31, 2015
The Miami Dolphins' offense has shown itself to be capable of great things. When the offense can run the ball effectively and keep opponents honest, the Dolphins are tough to ...
October 31, 2015
Halloween is thought of as one of the spookiest days of the year, but setting a daily fantasy football lineup can be scary, too. At least three NFL players should send ...