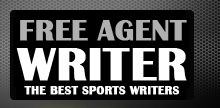 Yankee Addicts
Categories
Featured Sponsors
January 2016 Archive
January 31, 2016
The January all-star circuit for the NFL draft process has finally completed with the conclusion of the Senior Bowl. Now, NFL teams shuffle off back to their home cities to ...
January 31, 2016
With the new Super Bowl Opening Night on the horizon, Las Vegas has unleashed the odds and prop bets surrounding the encounter between the Carolina Panthers and Denver Broncos. With Cam ...
January 31, 2016
The Carolina Panthers rode a combination of an explosive offense and a stout defense to the NFL's best record in 2015 and a berth opposite the Denver Broncos in Super ...
January 31, 2016
Nobody thought the most controversial game of the NFL season would be the 2016 Pro Bowl, but that's where the globe stands on the matter ahead of Sunday's Team Rice ...
January 31, 2016
Cam Newton's "dabbing" self has arrived at the Super Bowl scene at just the right time, with the NFL turning Super Bowl Media Day into one of the biggest events ...
January 31, 2016
The anticipation for Super Bowl 50 is building at a frenzied pace, as the NFL's biggest game is now only one week away. Before we get to it, however, there's ...
January 31, 2016
Dallas Cowboys defensive end DeMarcus Lawrence had a procedure done on his back, and there is no immediate timetable on his return. Continue for updates.  Lawrence Undergoes Back Surgery Saturday, Jan. 30 ESPNDallas.com's Todd ...
January 31, 2016
The 2016 Senior Bowl was a terrific opportunity for NFL prospects to prove their talent among the nation's best seniors and fourth-year juniors. Coming off an intense and critical week ...
January 31, 2016
Evaluating prospects for the NFL draft is a balancing act.  Teams have to compare prospects with raw skills but elite upside against those with fewer physical gifts but more polished skills. ...
January 31, 2016
Indianapolis Colts linebacker D'Qwell Jackson is reportedly being sued for $1.5 million by the pizza delivery driver he allegedly punched in February 2015, according to ESPN's Dianna Marie Russini.  Jackson was ...