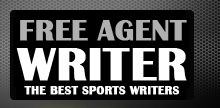 Yankee Addicts
Categories
Featured Sponsors
October 2016 Archive
October 31, 2016
If you play daily fantasy football, well, you definitely lost money this week. Look, this week just seemed so darn weird (yeah, we say that every week, but whatever). I mean, ...
October 31, 2016
The eighth week of the 2016 NFL season is almost complete. This means that the 2016 NFL trade deadline is almost upon us. Unlike in other sports, the trade deadline doesn't ...
October 31, 2016
The games were better this week. Much better. Thank heavens. Packers-Falcons was a gem. Seahawks-Saints came down to the final play. Redskins-Bengals was a tie, but it was an exciting tie, ...
October 31, 2016
On Sunday, the Kansas City Chiefs beat the Indianapolis Colts by a score of 30-14, but the narrative around their quarterback situation may end up having more of an impact ...
October 31, 2016
ARLINGTON, Texas — Let's not mince words about what we just witnessed. We saw, officially and with certainty, Dak Prescott take the reins of the quarterback position for the Dallas ...
October 31, 2016
After playing a solid overall game, the Philadelphia Eagles fell in overtime, 29-23, to the Dallas Cowboys. Head coach Doug Pederson will have to take a hard look at himself ...
October 31, 2016
Somehow, the Dallas Cowboys found a way to win for the sixth consecutive game. Since losing to the New York Giants, the Cowboys are 6-0. Things started out sloppy, which was ...
October 31, 2016
Check out five of the top NFL and NCAA football headlines from Sunday night and Monday morning. Cowboys Outlast Eagles in Overtime Rookie quarterback Dak Prescott and the Dallas Cowboys overcame a 10-point deficit ...
October 31, 2016
After overcoming a 10-point deficit in the fourth quarter, Dak Prescott led the Dallas Cowboys to a 29-23 overtime win over the Philadelphia Eagles on Sunday night. The rookie quarterback threw ...
October 31, 2016
Dallas Cowboys cornerback Morris Claiborne left the team's Week 8 game against the Philadelphia Eagles after suffering a groin injury and did not return. His official playing status for Week 9 ...