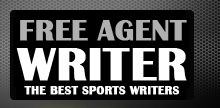 Yankee Addicts
Categories
Featured Sponsors
October 2016 Archive
October 31, 2016
We're here to discuss the most meaningful performances, injuries and fantasy football trends that emerged from Week 8 in the NFL. With multiple overtime battles and some shootouts throughout Sunday's action, ...
October 31, 2016
Dallas Cowboys safety Barry Church suffered a forearm injury in Week 8 against the Philadelphia Eagles and did not return, per ESPN's Todd Archer. His playing status for Week 9 against the Cleveland ...
October 31, 2016
It's better to win a disgusting, penalty-ridden contest than to lose a clean game. The Oakland Raiders accomplished the former with an NFL-record 23 infractions in a poor showing in ...
October 31, 2016
Last week, after the Atlanta Falcons dropped a second consecutive game thanks in part to another fourth-quarter interception from franchise quarterback Matt Ryan, you couldn't blame Falcons fans for panicking. This, ...
October 31, 2016
We were expecting the matchup between the Green Bay Packers and the Atlanta Falcons on Sunday to be a shootout, and those expectations were met in spectacular fashion.  Packers quarterback Aaron ...
October 31, 2016
It's no secret ratings for the NFL have been down for the first half of the NFL season, and the cause has been heavily debated. Presidential candidate Donald Trump apparently knows ...
October 31, 2016
With the 2016 NFL season reaching the halfway point, fantasy football owners are running out of ways to upgrade their roster. The waiver wire is the easiest way to find reinforcements, ...
October 31, 2016
It's hard to process a few new NFL realities after the Oakland Raiders' win Sunday over the Tampa Bay Buccaneers. We need to go slowly here and absorb everything. Taking ...
October 31, 2016
First, Aaron Rodgers lost all his running backs. Then he lost his receivers-turned-running backs. So on Sunday, Rodgers decided to do it all himself. It just wasn't enough. Matt Ryan found Mohamed ...
October 30, 2016
The 2016 season hasn't gone according to plan for the Carolina Panthers. After winning 15 games and representing the NFC in Super Bowl 50 a year ago, the Panthers lurched their ...