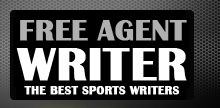 Yankee Addicts
Categories
Featured Sponsors
News published by
September 11, 2011
Have you ever heard the expression, we are too much alike, and that is why we do not get along? Well, truer words have never been spoken when it comes ...
April 22, 2011
Look, before you jump down my throat and tell me how ridiculous this all sounds, remember two things.This is draft week, meaning this is probably not the most ridiculous trade ...
January 16, 2011
For the third straight season, the Baltimore Ravens advanced to the divisional round of the NFL playoffs, and once again, there will be no Super Bowl appearance.  The Pittsburgh Steelers were ...
December 30, 2010
How big does that play call against the Steelers on Sunday night football look now Ravens fans? As a fan of the purple and black and knowing the ramifications today more ...
December 1, 2010
My stubbornness as an avid NFL fan would not allow logic to set in as I watched Week 12 play out in the NFL. With the passing of each week I lend more ...