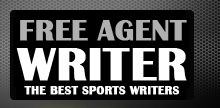 Yankee Addicts
Categories
Featured Sponsors
News published by
August 16, 2010
Mel Kiper Jr. has predicted the Draft for ESPN and covered all angles of the NFL's annual fresh pooling event for many years.Many media would call Kiper a draft guru. ...
August 2, 2010
Sitting on the side line yesterday it was hard to not notice the crowd chanting Tebows name as he was the first player besides the kickers on the field—both practices. No.15 ...
July 14, 2010
For some reason Josh McDaniels felt Jay Cutler was the first expandable player from the Shanahan era in Denver. The story goes that Tampa Bay fielded interest in the ...
July 7, 2010
"This year is the Raiders' year," the fans write on boards, articles and web sites. They talk about it at work and debate everyday with fellow AFC West fans over ...
July 3, 2010
Let's put it straight out there: a lot of fans of other teams seem to think the third-best secondary last year, with two Pro Bowl players both in ...