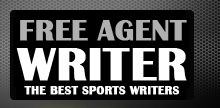 Yankee Addicts
Categories
Featured Sponsors
News published by
September 16, 2010
So its only been one game however the Post Game analysis from the Coaching Staff sounds the same as last year's.  I keep hearing "we need to pay attention to ...
May 14, 2010
Lets get on things straight off the bat. I am a JaMarcus Russell fan and apologist. I believe many fans made a big mistake by booing JaMarcus ...
May 3, 2010
You know who you are.  You are the people ESPN has written about: http://sports.espn.go.com/espn/otl/news/story?id=5149579 You're the same people who bash Al Davis and our proud organization. You think your funny with the cheap ...
April 12, 2010
Yet another perfect example of when "so called" fans team up with those who hate the Raiders to discredit the organization.They believe anything ESPN reports even when it comes from ...