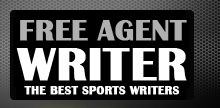 Yankee Addicts
Categories
Featured Sponsors
News published by
April 18, 2011
The NFL draft is right around the corner and everyone is searching for the most up-to-date mock drafts as they prepare their own. To make your life easier, I have ...
April 17, 2011
The 2011 NFL draft is quickly approaching and everyone is trying to analyze every need of all 32 teams. More importantly, everyone has his opinion on each prospect and where ...
April 12, 2011
The Miami Dolphins have one of the better receiving corps. in the league, yet everyone knows head coach Tony Sparano's main goal is to play smash-mouth, run-the-ball-down-your-throat football. The Dolphins' first-round ...
April 6, 2011
NFL Draft 2011 Kentucky's Randall Cobb Should Be a Player of Bill Belichick's Interest In February, when I posted my three-round NFL mock draft, I projected Kentucky's all-purpose wide receiver ...
April 6, 2011
NFL Draft 2011 Could Mike Tannenbaum Trade Up Ala 2009? The New York Jets went for it all in the 2009 draft. They essentially gambled the entire franchise when they ...
April 5, 2011
Bill Belichick, the greatest coach in NFL history, is also known as one of the very best talent evaluators in today's NFL. You can rest assured that the mastermind is ...
April 4, 2011
2011 NFL Mock Draft Indianapolis Colts Look to USC Trojan for Protection If the Indianapolis Colts hope to make another Super Bowl push and not find themselves towards the bottom ...
April 4, 2011
2011 NFL Mock Draft Kansas City Chiefs Look To Build Stronger Defense The Kansas City Chiefs were one of the great surprise teams in 2010. They have the opportunity to ...
April 4, 2011
2011 NFL Mock Draft Wade Phillips Targets Next Superstar When going into battle, you always want a warrior with you in your foxhole. You want somebody you know will battle ...
April 4, 2011
2011 NFL Mock Draft Julio Jones Adds New Dynamic to Washington You probably mistook him for an Olympian after seeing him at the 2011 NFL Combine. The one clear cut ...