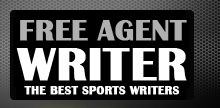 Yankee Addicts
Categories
Featured Sponsors
News published by
August 21, 2015
For the Oakland Raiders, the preseason opener was an opportunity for everyone to get their feet wet. The starters saw some time, but not much. After that, everyone one else ...
August 13, 2015
Good news, Oakland Raiders fans! We finally have NFL football! Well, sort of. The preseason (or NFL Lite) is a strange time for fans. Yes, it's technically NFL football, but it's not ...
July 18, 2015
The Oakland Raiders are in the midst of one of the most exciting periods in the team's recent history. Hopes are high, but that's true every offseason. The difference is ...
July 3, 2015
A lot of things went wrong for the Oakland Raiders defense in 2014. But of all of those things, the worst one occurred before the season even started. The Oakland defense looked ...
June 27, 2015
The Oakland Raiders have had a very busy offseason. The team brought in a lot of talent both through free agency and the draft. Add to that a brand new ...
June 6, 2015
How much better are the Oakland Raiders at wide receiver this year? We won't know until the season begins, but on paper, the wide receiving corps is vastly improved from last ...
May 23, 2015
The Oakland Raiders have made a lot of significant additions to the roster this offseason. In the initial free-agency rush, the team brought in more than 10 free agents. Add ...
May 9, 2015
Following an influx of talent, the Oakland Raiders must now go about the business of deciding who will start and who will be relegated to reserve roles. Despite coming off of ...
March 28, 2015
With pro days in full swing, the Oakland Raiders have plenty of new information to begin refining their big board as the draft draws nearer. The Raiders have the fourth overall ...
November 22, 2014
Finally. After 11 long, arduous weeks, the Oakland Raiders defeated the Kansas City Chiefs 24-20 and finally earned their first victory of the season. And it was well-deserved. If you didn't know ...