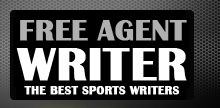 Yankee Addicts
Categories
Featured Sponsors
News published by
July 20, 2010
Normally, I do not do this, but as the opening of NFL training camps approaches and fans are looking for players that can help their team, I decided this might ...
July 4, 2010
As sports fans, we never truly know our heroes. Even when we get to meet them off the field, we never truly get a chance to meet the real them. Never ...
April 26, 2010
The Detroit Lions made the final pick of the draft, taking Tim Toone, wide receiver out of Weber State. After that pick, every NFL team started looking for undrafted ...
April 19, 2010
In the coming weeks NFL commissioner Roger Goodell will have to figure out what punishment to hand down to Pittsburgh Steelers quarterback Ben Roethlisberger. The NFL seems content not to ...
March 12, 2010
NFL free agency is in full swing and nearly a week old. In the first year since 1993 without a salary cap it has been a kind of slow free ...