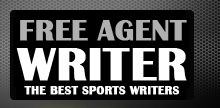 Yankee Addicts
Categories
Featured Sponsors
News published by
June 9, 2010
One of the greatest things about sports is their history. The players of the past have affected all of the players of today in a special way. There have been ...
June 6, 2010
With the NBA and NHL about to crown their season champions, and the baseball season still many, many, months away from being over, the smell of football is in the ...
January 10, 2010
One of the things I look at before watching a game, is who will be doing the play-by-play and commentary. Most of the time, things are pretty well done and ...
January 7, 2010
Since every kind of success is based on the quarterback of the team, we might as well take a look at each playoff team from this year and rank the ...