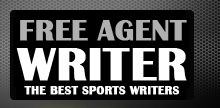 Yankee Addicts
Categories
Featured Sponsors
News published by
January 29, 2012
With Nike replacing Reebok as the NFL's primary equipment provider next season, the fans of the league expect to see changes coming to the look of their teams like the ...
October 29, 2011
While it's tough to live in the shadow of your big brother in just normal circumstances, what if your big brother is quarterback of the defending Super Bowl champion Green ...
January 10, 2011
As the Wild Card round ends, the tournament is trimmed to eight remaining clubs vying for a trip to Dallas this February. With the weight of expectations on the Jets, ...
December 30, 2010
As the 2010 NFL regular season comes to an end, there are plenty of storylines and division races still to be played out this Sunday. The AFC South is still ...
October 26, 2010
After a NFL weekend that resembled a college schedule with the upsets and shocking results, the league is finally starting to see some teams separate themselves from the rest of ...
October 20, 2010
After a weekend slate of games that shown a spotlight on the array of violent hits in the NFL, the volume of those dangerous hits will hopefully subside so the ...