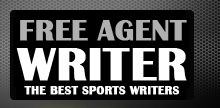 Yankee Addicts
Categories
Featured Sponsors
News published by
December 20, 2015
The ball hung in the air on the last desperate attempt from the Dallas Cowboys to shock the New York Jets in Arlington, Texas. Late in the fourth quarter, having just ...
November 13, 2015
EAST RUTHERFORD, N.J. — Ryan Fitzpatrick lined up in the shotgun and scanned the field. He knew the situation. He knew the play call. On 4th-and-2 late in the fourth quarter trailing ...
October 31, 2015
When the NFL schedule was announced way back when, and all began to breakdown everything week-by-week, few pegged the Jets and Raiders' Week 8 matchup as one of the best ...
October 3, 2015
The first two games of Todd Bowles' Jets coaching career were easy. Really easy, actually. Through the first eight quarters of the 2015 season, New York's defense was ferocious, the offense ...
September 26, 2015
It's been quite a long time since the New York Jets began a season with three consecutive victories. Not since 2009, to be exact. But with a win against the surprisingly ...
September 19, 2015
In the New York Jets' 31-10 victory over the Cleveland Browns in the team's season opener, the group showed just about everything it could have wanted. The Jets ran the ball well, ...
September 12, 2015
On Sunday afternoon, the New York Jets will open their 2015 season at home against the Cleveland Browns. Looking to put last year's dreadful 4-12 campaign as far behind them ...
August 27, 2015
Trivia time! What happens when you add two crosstown rivals, a meaningless football game, a stadium sponsored by MetLife and a giant trophy together? You guessed it: the Snoopy Bowl. On Saturday ...