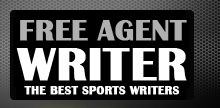 Yankee Addicts
Categories
Featured Sponsors
News published by
October 8, 2010
Peruse ESPN.com, Foxsports.com, BleacherReport, Yahoo, or Sports Illustrated for "Randy Moss" or "Minnesota Vikings analysis," and you're going to get bombarded with negativity: "Randy Moss Misses Target for Minnesota Vikings" "Moss Trade ...
October 6, 2010
The Minnesota Vikings may be doing something fans never thought would happen: putting Randy Moss back in a Vikings' uniform. Multiple sources, including Fox Sports' Jay Glazer and ESPN's Chris Mortensen, ...
September 21, 2010
Brett Favre deflected a lot of blame after Sunday's disappointing loss to the Miami Dolphins. Favre threw three interceptions, two of which were in the red zone. "I put it right ...
September 16, 2010
The Minnesota Vikings face off against the Miami Dolphins this week at Mall of America Field. The Vikings haven't lost at home since 2008, so expect a solid turnaround after ...
May 3, 2010
The controversy swirling around Brett Favre may have peaked following the NFL Draft, as the Minnesota Vikings did not select a quarterback, trade for a quarterback, or sign one in ...
April 27, 2010
Let me start by being blunt: this was a disappointing draft for the Minnesota Vikings, especially taking into consideration how great the last few drafts have been. When the Vikings traded ...
March 9, 2010
The beginning of NFL free agency turned into a spending frenzy on day one. The Chicago Bears signed the big fish in Julius Peppers and nabbed former Minnesota Viking Chester Taylor ...
February 24, 2010
With the NFL Scouting Combine set to begin at the end of the week, many players' draft stocks will be more solidified. Many scouts and fans hope to see many of ...