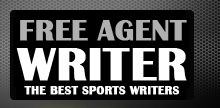 Yankee Addicts
Categories
Featured Sponsors
News published by
October 21, 2010
I know that every Dallas fan out there has heard the stats over and over again.  "Only 5 percent of the 1-4 teams have made the playoffs after being 1-4," ...
October 15, 2010
Can someone tell me who this team is?   This was the Dallas Cowboys. This team was the team that went 11-5 last year and won the NFC East two out of ...
September 30, 2010
Do you smell that? It's a weird smell of confidence coming from Atlanta.  They are coming off a huge road win against the Super Bowl champion New Orleans Saints.  They ...
September 22, 2010
Any truly great man can ruin a lifetime of work with one bad decision.  Its happened multiple times in history.  Some of the world's most powerful leaders have made one ...
September 14, 2010
I ask you one question Dallas fans: Does this look like the team that you see being the first team to host a Super Bowl?  I don't. For every great effort that ...
August 31, 2010
Throughout the history of the Lombardi Trophy, only seven teams have won back-to-back Super Bowl titles.  Usually those teams have had something that sets them apart from the rest of ...
August 29, 2010
As we approach the opening days of the 2010 season, the Dallas Cowboys are one of a few teams with expectations and pressure higher than most teams in the league.  With ...
August 27, 2010
It's amazing that this tug of war is still going on between A.J. Smith and Vincent Jackson.  With all the speculation about the different amounts of interest in the Pro ...