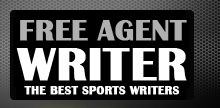 Yankee Addicts
Categories
Featured Sponsors
News published by
June 7, 2010
The Oakland Raiders have probably had as good an off-season as any team in the league, and went some way to addressing their "line of scrimmage issues," as described ...
May 24, 2010
The Raiders have always polarised opinion in football fans, you either love them or you hate them. Some people though cross the line, some former employees like Lane Kiffin, some are ...
May 17, 2010
In the week of the anniversary of his death (May 14, 1992), I thought it would be fitting for those of us in the Raider Nation to remember one of ...
April 30, 2010
What a great offseason it has been.  For once the Raiders draft and trades have been almost universally approved by the sporting media, and just about every transaction has addressed ...
April 28, 2010
This offseason for the Oakland Raiders has been applauded even by their critics (well, apart from Mel Kiper) as taking this franchise in the right direction after seven years in ...
April 26, 2010
Waking up on Sunday, I almost believed that it had all been a dream. So many years I have woken up after the draft with a feeling of disappointment, and then ...
April 18, 2010
So Thomas Howard has signed his second round tender for 2010. So where now from here? Most journalists firmly believe that Kirk Morrison is on the trading block with only an ...
April 16, 2010
The Oakland Raiders were always a team that took chances on players, both in the draft and in free agency, and it worked so well for them for a very ...
April 12, 2010
Everyone has their theories on who the Raiders should take with the number eight pick, and with a number of acute areas of need on the team you would think ...
April 8, 2010
With only two weeks to go before the 2010 NFL Draft, the entire NFL world is in a mock draft frenzy, with a hundred different interpretations for every team. Of all ...