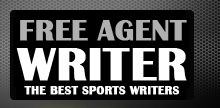 Yankee Addicts
Categories
Featured Sponsors
News published by
April 18, 2011
One of the most anticipated parts of every year's NFL Draft is seeing who is selected first. In the time leading up to the day of the Draft, experts and fans ...
April 16, 2011
There has always been a "need for speed" in the NFL. Finding fast players to put on the field is, in some ways, as important as selecting players of size and ...
April 14, 2011
The fans aren't the only ones who REALLY want to make sure that there is NFL action this fall. There are a handful of players who want to have another quality ...
April 10, 2011
A record 56 underclassmen announced their intention to decline their remaining NCAA eligibility and enter the 2011 NFL Draft Some players on this list were not a surprise at all. Some of ...
February 5, 2011
In spite of arctic weather, the Coke Zero Madden Bowl XVII Black Carpet event was a huge success.The super cold conditions didn't destroy an awesome, lead-off Super Bowl event. Sub-zero windchill didn't prevent ...
February 4, 2011
On Thursday night at the Coke Zero Madden Bowl XVII Black Carpet Event in Dallas, I had the chance to talk to Pittsburgh Steelers outside linebacker LaMarr Woodley about Sunday's game. ...
December 17, 2010
In a year when the Cowboys were out of the playoff picture early, off-the-field news for the Dallas NFL team grabs headlines too. Tony Romo is doing more than rehabbing ...
November 17, 2010
Wins in the NFL in September are nice. Getting things figured out in October is very important. By the middle of November, we start to see which teams are most likely to make the ...
November 4, 2010
Practically every media outlet that reports on the NFL predicted that, this year, the Dallas Cowboys would have a good chance of winning the NFC and go on to play in ...