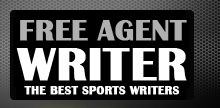 Yankee Addicts
Categories
Featured Sponsors
News published by
August 23, 2010
Oh, we're so close now. Is it wrong to dream about football?If it is, I don't want to be right.Is there a better way to celebrate the return of the ...
July 22, 2010
We're getting closer and closer to the NFL season. Are you excited yet? I know I am.With training camp on the horizon, and teams rounding out their rosters, many of ...
June 24, 2010
It seems so close but it's still so far away. The start of the NFL season can't come soon enough, especially now that the NBA's second season is over with. ...
June 16, 2010
The word "productive" is a little tricky. This is not an article that is strictly fantasy-centric. If it were, you wouldn't see a quarterback in the top three. No, this ...
June 9, 2010
The 2010 NFL season is still months away, but doesn't it feel like it's right around the corner? There hasn't been a single contact practice yet, and yet there's so ...
June 1, 2010
To some folks, the only thing more exciting than a new NFL season is a new installment of Madden. Gamers around the world have already marked August 10, 2010 as ...
May 25, 2010
On Tuesday, NFL owners voted, and we got the result we were expecting. New York City was awarded with the 2014 Super Bowl, which will be held at New Meadowlands ...
May 12, 2010
The NFL Draft is such a tease. It gets our football juices flowing and gets everyone excited, from fans of the Saints all the way down to the suffering fans ...
April 30, 2010
The NFL Draft has come to an end, but the speculation hasn't. Draft questions have been replaced with roster questions, free agency rumors, and of course, Brett Favre watch 2010. The ...
April 22, 2010
On Thursday, the wait will pay off. Yes, the NFL Draft, in all its glory, is finally here. And for the first time ever, it will start on Thursday (television's ...