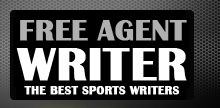 Yankee Addicts
Categories
Featured Sponsors
News published by
January 20, 2011
There is nothing better in the National Football League than a dramatic comeback.We have seen some great comebacks over the years, some better than others, but what is more exciting ...
January 18, 2011
We are one round away from the Super Bowl and what an exciting postseason it has been.With great performances from the likes of Green Bay Packers quarterback Aaron Rodgers, some ...
January 15, 2011
The Seattle Seahawks have signed wide receiver Ben Obomanu to a three-year extension through the 2014 season. After four quiet seasons, Obomanu finally broke out in his fifth year with ...
January 7, 2011
San Francisco 49ers quarterback Alex Smith is a free agent this offseason and many must wonder, where will Smith play in 2011? Some 49ers fans have been waiting for this ...
January 6, 2011
It is being reported that the Tennessee Titans will part ways with quarterback Vince Young after five seasons.It was being rumored that Jeff Fisher was on his way out of ...
January 5, 2011
ESPN's Adam Schefter has reported that the Oakland Raiders have informed coach Tom Cable that he will not return as head coach in 2011. Tom Cable had a $2.5 option on ...
January 5, 2011
The Playoffs are finally upon us and what a wild season it has been in the NFL.Tom Brady and the New England Patriots and Matt Ryan and the Atlanta Falcons ...
January 3, 2011
According to San Francisco reporter Nancy Gay, the Raiders are interested in former Denver Broncos head coach Josh McDaniels, who was relieved of duty during the regular season. With Tom Cable ...
December 24, 2010
There are many teams in the National Football League that will be in need of a new head coach for the 2011 season.Many offensive and defensive coordinators have stepped up ...
December 23, 2010
Week 16 is upon us and the playoffs are right around the corner.We know who is for real and who is not but can the teams to beat remain hot ...