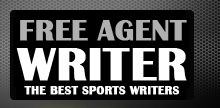 Yankee Addicts
Categories
Featured Sponsors
News published by
November 23, 2010
It was Christmas Eve 2006. The Atlanta Falcons were hosting the Carolina Panthers in Week 16.  Down by seven with just six seconds on the clock, Michael Vick took the snap ...
May 27, 2010
Sounds crazy, right? Kurt Warner is one of the most accurate quarterbacks to ever the play the game. Michael Vick and the word "accurate" haven't even ever been in the same ...
January 6, 2010
The 2010 NFL Wild Card Weekend will feature three rematches from Week 17. All three games turned out to be blowouts. The Jets defeated the Bengals 37-0, the Eagles fell to ...