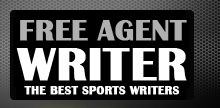 Yankee Addicts
Categories
Featured Sponsors
News published by
June 26, 2012
Everywhere you hear it.  From newscasters to NFL Network analysts, hell, even players, they are all saying the same damn thing: Philip Rivers had a horrible season.  Let's take a ...
February 5, 2011
There has been a lot of heat on AJ Smith and Dean Spanos in the past couple of months for the Vincent Jackson debacle.  For all the right moves they've ...
February 4, 2011
Before many of you readers start bashing me on this, let me take some time to explain myself. Shawne Merriman was a victim of a really serious injury. That's unquestionable. ...
January 14, 2011
If there is one thing we have to understand about this crazy game of football, we have to see that the window of opportunity for a team to win only ...
January 3, 2011
One thing is very evident about Ryan Mathews that we learned today: he is what AJ Smith thought he could be.   AJ Smith was scrutinized by opposing AFC West and ...
December 21, 2010
Looking at how the Chargers playoff hopes dwindled a little bit when the Rams weren't able to give the Chiefs their sixth loss, I took some time to do some ...
December 16, 2010
It's really sad how business in the NFL is run. There are some players, in my opinion, that have a shot at becoming something special; players that have that need, that drive, ...
December 15, 2010
This Thursday Night Football game will be explosive.  You have two teams with playoff implications on the line.  Two teams that will play harder, run faster, react quicker and jump ...
December 13, 2010
Wow.  Just wow.   Many months ago, I wrote an article before the Monday Night Football game between the Chargers and Chiefs.  I had no doubt that the Chargers would destroy ...
December 6, 2010
In a game where the Chargers had all the stars aligned for them, it seemed that they went into this game against the Raiders expecting that they'd dominate like they ...