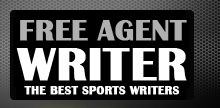 Yankee Addicts
Categories
Featured Sponsors
News published by
September 10, 2010
Earlier this week, I wrote that I believe that not only the Detroit Lions are a better team then the Chicago Bears (blasphemy!), but that they will beat the Bears ...
September 6, 2010
The NFL season is only a few days away. Darrelle Revis has signed, Matt Leinart has been dropped and Sam Bradford will be starting under center. All the starters are ...
September 1, 2010
I remember the day even now. Saturday, Oct. 10, 2009: the annual football game between LSU and Florida, a bloodbath in the Deep South that involved two victory-hungry fanbases and enough ...
September 1, 2010
  Coming out of the University of Utah in 2005, Alex Smith was a quarterback destined for supposed greatness. He was a quarterback that lost only one game as a starter in ...
September 1, 2010
An ode to players who get way too much attention for their level of play. The Mannings, Brady's, Belichick's, and Payton's of the world might deserve it, but ...
August 26, 2010
Time and again the NFL has proved to be the most confusing sport to predict. In the NFL, good players do not necessarily equal good teams or championships, whereas in most ...
August 25, 2010
  With respects to Zach Robinson (New England Patriots), Mike Kafka (Philadelphia Eagles) and Rusty Smith (Tennessee Titans), the two most important quarterbacks that came out of the 2010 NFL draft ...
August 24, 2010
I want Tim Tebow to succeed. This is coming from a writer who has no connection to the Denver Broncos and who also thinks that Denver is made every wrong move ...
August 21, 2010
  They say that it takes three years to really grade a draft. So here we are, only a few weeks away from the 2010 NFL season. We're all ready to ...
August 19, 2010
Mark Sanchez is the most overrated quarterback in the NFL.   Sanchez is so overrated that he shouldn't even be rated.   Take a look at two players stats:   Player A: 2444 passing yards, 12 ...