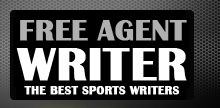 Yankee Addicts
Categories
Featured Sponsors
News published by
April 22, 2010
Great—another example of a poor draft choice by the Jacksonville Jaguars.  It was announced today that they traded 2008 second round draft choice Quentin Groves to the Oakland Raiders. What the Jaguars ...
April 14, 2010
I will admit that I thought in the beginning that the Jacksonville Jaguars would pick Tim Tebow in the first round with their assigned pick or by trading down.  I was ...
March 8, 2010
After managing a league-low 14 sacks during the 2009 season, the Jacksonville Jaguars went out and signed former Green Bay Packers DE Aaron Kampman on Sunday. Terms of the signing ...
February 23, 2010
As a Jacksonville Jaguars fan, I smiled today when I heard that LaDainian Tomlinson was released from the San Diego Chargers.  I started to dream of the possibilities of having ...
January 10, 2010
It was quite a surprise when the Seattle Seahawks fired Jim Mora after one season as head coach. Soon thereafter, stories emerged that USC's Pete Carroll would become the next ...
January 7, 2010
Yes, the relocation talks are cranking up once again for the Jacksonville Jaguars.  Majestic Realty Group, Inc. is considering the Jaguars and six other NFL teams as possible future Los Angeles ...