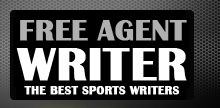 Yankee Addicts
Categories
Featured Sponsors
News published by
March 6, 2010
I know, I know. All I read yesterday was how outraged the fans of Philadelphia were at Andy Reid for continuing to take the Eagles in the wrong direction. In the words of ESPN's: Sunday ...
February 22, 2010
  First off, I would like to say that being a Philadelphia Eagles fan in the state of Maryland is tough. Many people here have never forgotten what happened with Terrell Owens ...
February 18, 2010
With all the talk these days in Philadelphia about quarterbacks, safeties, and defensive ends it is easy to forget about some of the other positions that need some attention in Philadelphia. For ...