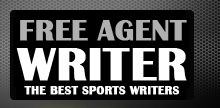 Yankee Addicts
Categories
Featured Sponsors
News published by
March 11, 2011
During the last two years, the Cleveland Browns have drafted numerous players. Some—like last year's selections Joe Haden and T.J. Ward—have brought back immediate results. Others—such as Kaluka Maiava and Shawn ...
March 5, 2011
Yesterday, as the eleventh hour drew near on NFL labor talks, the only thing the owners and NFLPA agreed upon was that the two sides would extend the deadline for ...
March 5, 2011
The 2011 NFL draft is less than two months away. Speculation has been rampant as to who the Cleveland Browns will take this year with their first pick, No. 6 ...
February 27, 2011
With the NFL's current collective bargaining agreement set to expire in only a matter of days, 32 franchises are preparing to embrace life without football—at least for the short term.  ...
February 16, 2011
One of the biggest needs for the Cleveland Browns this offseason has to be wide receiver.The Browns do not currently have a bona fide No. 1 receiver and their leading ...
January 8, 2011
Tomorrow's AFC Wild Card game between the New York Jets and Indianapolis Colts, a rematch of last season's AFC championship game, is a very fitting start to this season's NFL ...
December 17, 2010
December is in full swing, and that can only mean one thing: Christmas is near.  People are frantically shopping for last minute gift ideas.  They're making their lists, and checking ...
December 4, 2010
The Cleveland Browns head into the final five weeks of the season at 4-7, good for third place in the AFC North.  While the odds are very slim they make ...
November 25, 2010
There have been many positives for the Cleveland Browns this fall as the 2010 NFL season has played out. First among them has to be Peyton Hillis, the power running back ...
November 15, 2010
Yesterday afternoon, as time was winding down in the overtime session of the Cleveland Browns-New York Jets game in Cleveland, all one had to do was look at the expression ...