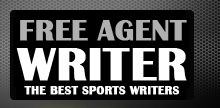 Yankee Addicts
Categories
Featured Sponsors
News published by
December 27, 2010
Even after last week's collapse, we, the fans, thought the Giants would dig deep and find it in them to rebound against the Packers, like they did in 2007.  Sadly, ...
December 19, 2010
It's that time of the year in the NFL, as the Giants and Eagles battle once again for divisional dominance in December. With Mike Vick dominating the headlines throughout the week, ...
December 8, 2010
"If (Justin) Tuck was the defensive end for the Jacksonville Jaguars, I couldn't do this (market) for him, because he's not a national enough figure. He's got three national campaigns: Nike, ...
December 1, 2010
"Peyton's brother" or "Archie's son" are some of the nicknames that the youngest son of the Manning family has had to endure throughout his football career.  Hell, if he wasn't ...
October 25, 2010
Two of the NFL's better teams had their respective byes this week, and it showed in the amount of sloppy games played on Sunday.  The Denver Broncos were embarrassed by an ...
October 16, 2010
The New Orleans Saints head to Raymond James Stadium Sunday with the possibility of falling two games back in the NFC North. Drew Brees and the Saints' offense have been ...
October 11, 2010
On a day that saw Dallas lose consecutive home games for the first time since 2006, Felix Jones was one of the few bright spots for the Cowboys (1-3) Sunday afternoon. Although he only ...
October 8, 2010
With Randy Moss officially a member of the Minnesota Vikings, the Patriots will look to replace the Hall of Fame wide receiver in the next coming weeks.While the Patriots have in-house options, ...
October 7, 2010
Bill Belichick and the New England Patriots never cease to amaze us. With future Hall-of-Famer Randy Moss now a member of the Minnesota Vikings, once again, Tom Brady and the New ...
October 4, 2010
With only one more game until Week 4 is settled, it seems a perfect time to make a bold statement about the NFL season so far.  The New York Jets (3-1) ...