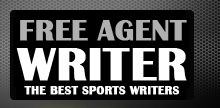 Yankee Addicts
Categories
Featured Sponsors
News published by
August 6, 2010
The 2010 NFL season is almost upon us, and the Philadelphia Eagles will be stepping on the field looking very different from last season. Kevin Kolb will be entering his first year ...
May 11, 2010
The Philadelphia Eagles have a young, talented offense. That offense consists of quarterback Kevin Kolb, wide receivers DeSean Jackson and Jeremy Maclin, tight end Brent Celek, and tailback LeSean McCoy. ...
April 19, 2010
The Philadelphia Eagles need help on defense, and a lot of it. This is uncharacteristic of the Eagles. For years, Jim Johnson's defenses would crush the competition. Now, the Eagles are ...
March 12, 2010
Hank Baskett is set to sign with the Eagles. This amazing wide receiver will undoubtedly change the Eagles' entire offense. His great hands and incredible football smarts will be great for ...
March 6, 2010
Why do the Eagles refuse to sign big names? Why do they insist on saving every cent they can? Two very talented unrestricted free agents were available who could have helped ...