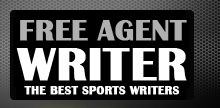 Yankee Addicts
Categories
Featured Sponsors
News published by
June 28, 2010
With the preseason right around the corner, here is a breakdown of the NFC West division teams.   Offense Quarterbacks San Francisco pretty much wins this by default. Alex Smith is an average ...
June 27, 2010
Quarterbacks What more is there to say that hasn't already been said about Saint Brees? He truly elevated himself into the top NFL echelon and now has a ring to prove ...
June 17, 2010
I'm going to try a new format today and see how it works. Instead of going by team I'm going to analyze every team by unit ... 1. Indianapolis Colts: 10-13 ...
May 19, 2010
QB - Jimmy Clausen, Carolina, 48 overall (2nd) Clausen was a fantastic college QB. He played on a horrible team at Notre Dame with an awful offensive line, running game, and defense. ...
May 3, 2010
Every year we hear the same cliche come draft time. Invariably someone will comment, "You should always wait on a RB you can get one in the later rounds."  It ...
May 1, 2010
1. Cowboys: 9-12 Ws 2. Giants: 8-10 Ws 3. Redskins: 7-9 Ws 4. Eagles: 6-9 Ws   Dallas Cowboys   The Cowboys have the best team on paper. They have still question marks, but fewer than other ...
April 29, 2010
1. Miami Dolphins—13-14 Ws 2. NY Jets—10-12 Ws (wildcard) 3. NE Patriots—7-10 Ws 4. Buffalo Bills—1-2Ws   Could the Dolphins really surpass the Jets as No. One in the AFC East? I believe they can ...
April 17, 2010
1. STL - Sam Bradford QB The right position, but the wrong player. Clausen is the better prospect in my opinion, but Bradford looks set to go No. 1 ...
March 30, 2010
You can find round 1 here if you missed it: http://bleacherreport.com/articles/369662-community-mock-draft-round-1-with-trades   Trade: The St Louis Rams trade the 33rd overall pick to the Panthers for the 48th (2nd) and 78th (3rd) overall ...
March 30, 2010
In this article, I will try to identify who I think which team has the best unit at each position. It will be important for there to be depth at ...