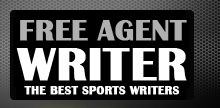 Yankee Addicts
Categories
Featured Sponsors
News published by
May 26, 2010
With the exception of the San Diego Chargers and the Denver Broncos, the AFC West wasn't well represented in 2009. However, the draft and the signings of free agents may have ...
May 24, 2010
Now that I've previewed the NFC , it's time to move on to the AFC. The AFC East is comprised of two competitors in the New England Patriots and ...
May 20, 2010
The Carolina Panthers and the Atlanta Falcons had decent seasons, with both clubs hitting either the .500 mark or surpassing it. Unfortunately for them, they're in the same division as the ...
May 19, 2010
Apart from the Minnesota Vikings and the Green Bay Packers, the NFC North was non-existent in 2009. It's fair to say the Detroit Lions and the Chicago Bears were dragging the ...
May 19, 2010
To say that 2010 was a year full of surprises regarding the NFC West would be a major understatement. Pete Carroll left sunny California to try his hand at an NFL ...
May 14, 2010
The 2010 NFL Draft gave the NFC East a major upgrade, and the division won't be as lopsided as it was in 2009. The NFC's most notable acquisition during the draft ...