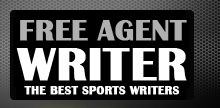 Yankee Addicts
Categories
Featured Sponsors
News published by
May 5, 2015
After an exciting draft in 2014, general manager Doug Whaley and the personnel who comprise the Buffalo Bills' war room spent most of the 2015 event away from the limelight. Without ...
May 23, 2014
Much has been made of the Buffalo Bills' wild draft this year, which was full of trading up and down all the way until the end of Day 3. A ...
January 29, 2014
College All-Star Games have come and gone, but for NFL hopefuls, the draft process is far from being over. As the gears change to more individual workouts and preparations for ...
January 7, 2014
Free agency has been a popular topic around the Buffalo Bills forums for the last few weeks and for good reason, after the team finished its ninth consecutive losing season. Last ...
July 23, 2013
The six-week lull leading up to NFL training camps is nearly over. For fans, the dead period following the NFL draft and minicamps is one of the most boring times of ...
June 22, 2013
EJ Manuel is no stranger to being in the spotlight. Manuel started at quarterback as a freshman in high school and was a blue-chip quarterback prospect out of Virginia Beach. He ...
April 2, 2013
The free-agency period has been so quiet in Buffalo this offseason that one might forget that such a thing exists. Many publications have turned their focus to April's draft because ...
October 31, 2012
I'm not sure if you've heard, but the Buffalo Bills spent A LOT of money on improving the defense during the last two offseasons. I'm also not sure if you've ...