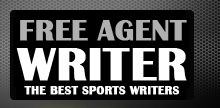 Yankee Addicts
Categories
Featured Sponsors
News published by
October 14, 2010
The NFL season is through five weeks of its season, but still without two of its big name players. Vincent Jackson, a wide receiver for the Chargers, and Logan Mankins, ...
October 7, 2010
By now we've all heard about the new Brett Favre drama, but in case you haven't, I'll break it down for you. Favre allegedly attempted to seduce former Jets sideline ...
March 23, 2010
Yesterday I broke down all of the Sweet 16 match-ups, so today I'm going to break down the key players on each team. Each player has been a very important ...
February 22, 2010
The 2009-2010 edition of the Baylor Bear basketball team was somewhat of a mystery to start the year. Coming off of back-to-back postseason appearances (NCAA followed by NIT) Baylor graduated its ...