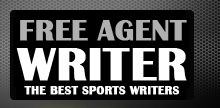 Yankee Addicts
Categories
Featured Sponsors
News published by
April 21, 2011
Drafting in the NFL is a volatile profession.  Some organizations stay steady as they go and always seem to make good picks.  Others are just the opposite. Opposites attract, they ...
April 15, 2011
Since running backs are usually the most plentiful position available in the NFL draft, there are many sleepers to wake. Tennessee Titans star Chris Johnson was the fifth running back ...
April 14, 2011
How long has it been since the Cowboys drafted an offensive lineman in the first round?  The answer to this question—and many more—are coming up in the friendly confines of ...
February 11, 2011
Is the National Football League regretting its decision to hold the Super Bowl in Arlington, Texas near Dallas?  I think so.  The "L" in NFL could stand for lawyers or ...
January 27, 2011
How long before rumors of a Super Bowl played in Japan surface? The rumors could start after you're done reading this article. After a 30-year run in Hawaii, could the NFL ...
January 20, 2011
Will the New York Jets talk trash to the Pittsburgh Steelers? If they do, it'll probably be on the field. They did it to Tom Brady, Bill Belichick and Inez Sainz ...
January 17, 2011
Are your Super Bowl picks still alive? Probably not. Over the weekend, mine made it to the NFL final four. I'm not bragging—just extrapolating the facts.  On Saturday evening, the Steelers' ...
January 15, 2011
"Rodgers vs. Ryan—between the two NFL quarterbacks—who is better?"  That's the question I wanted to ask in the headline, but I used the one you see.  I hope you enjoyed it.  As ...
January 14, 2011
How good is Rex Ryan feeling? He has to be at one of those points in life where the apex of good feeling stays for awhile.  He accomplished a personal ...
January 13, 2011
Is this the NFL's most electric and budding rivalry? Atlanta appears to be a playoffs mainstay and the Pack is back.  Stay tuned to this column and I'll tell you where ...