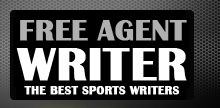 Yankee Addicts
Categories
Featured Sponsors
News published by
December 30, 2016
In my last article of the fantasy football season, I wanted to look back on the NFL rookies who made an impact of some kind in 2016 and those who ...
December 28, 2016
Playing for a fantasy football championship in Week 17 of the NFL regular season comes with plenty of pitfalls. The teams out of contention have no reason to take any risks, ...
December 27, 2016
The NFL regular season comes to a close in Week 17. Most fantasy football leagues have concluded, but for those who are conducting their championship this week, playing-time issues will ...
December 21, 2016
The reason almost all fantasy football championships are played in Week 16 instead of Week 17 is to avoid any playing-time issues related to teams that already clinched the playoffs. ...
December 16, 2016
Sneaking your way into the fantasy football playoffs takes luck and some courageous decisions along the way. NFL teams need some of that same luck and also must be willing ...
December 14, 2016
Did you ever think your fantasy football playoffs would be better off in the hands of Kirk Cousins instead of Drew Brees? That's a reality in Week 15 of the NFL ...
December 13, 2016
Congratulations if you made it this far in the fantasy football playoffs. Unfortunately, this time of year can be difficult to navigate as the NFL separates into contenders and teams packing ...
December 9, 2016
As you push forward through the fantasy football playoffs, NFL teams have just four weeks left in the regular season to lock up a spot in the postseason. If you're a ...
December 7, 2016
If you were lucky enough to ride David Johnson to the fantasy football playoffs after 13 weeks of the NFL season, your chances of winning a fantasy championship are likely ...
December 6, 2016
If you've made it this far into the NFL season, there's a good chance your fantasy playoffs start in Week 14. Congratulations on a wonderful achievement. The work is just ...