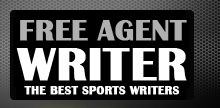 Yankee Addicts
Categories
Featured Sponsors
News published by
July 14, 2010
Vikings fans had a great year in 2009. The team was able to go 12-4 and win the NFC North. The team made it to the NFC Championship game, where they ...
July 13, 2010
Maybe it's karma for being the only team to beat Vince Lombardi in the playoffs, but the Vince Lombardi trophy has always found a way to stay out of the ...
July 12, 2010
He can kick the air out of the ball. We learned that last year when he set a franchise record for most touchbacks in a season with 29. The question is, ...
July 8, 2010
As usual, the Cowboys enter the 2010 season with high expectations. They were finally able to win a playoff game last season, and with the Super Bowl being held in ...
July 7, 2010
I went to the Dallas Cowboys Bleacher Report page earlier today to see if there were any new stories on the Cowboys, and I was baffled to see that I ...
July 1, 2010
They are hosting the party this year, but will it be a party at all if they don't attend? It seems like every year around this time, the Cowboys have Super ...
June 26, 2010
The 2010 off-season has been a fairly quiet one for the Dallas Cowboys, especially by their standards. Outside of the drafting of highly touted wide receiver Dez Bryant and ...
June 13, 2010
The NFC East, or the NFC Beast as it is commonly referred to, has been regarded as the most talented division in the NFL in recent years. Even though all ...
June 9, 2010
A true sign of how faithful a teams fan base is, and how good they are doing, is determined by how full they can get their stadiums. Some teams ...
June 6, 2010
Ever since Marion Barber moved from his former third down and late-game back role (where he was named a Pro Bowler), to starting running back, he has been plagued by ...