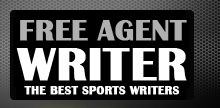 Yankee Addicts
Categories
Featured Sponsors
News published by
May 5, 2010
Given the rather sweeping motions taken by general manager A.J. Smith, it would appear that much of the offseason has proceeded as planned. Several overpaid and underproductive veterans like ...
May 5, 2010
San Diego has had a lot of greats throughout its history. From Dan Fouts helming the "air Coryell era" to Junior Seau leading the charge of a surprise super-bowl appearance. Bleacher ...
May 5, 2010
A few changes may come to pass before the season begins, especially should a key injury befall any of the listed teams. That said, with the opening rounds of ...
April 28, 2010
San Diego is a team that has prided itself on overcoming injury. Despite a host of injuries, including three separate defensive tackles going on IR, the team put up an ...
April 28, 2010
Now that the immediate dust of the NFL draft has settled the traditional evaluations have just about run their courses. Beyond the grades and the team-specific evaluations there is ...
April 27, 2010
San Diego entered the offseason coming off a 13-3 year with three predominant holes—a starting running back, cornerback depth, and a bigger body in the nose tackle rotation. San Diego filled ...
April 25, 2010
Both Western divisions of the NFL shared a few traits. A high-powered passing attack in the division winners followed by 8-8 second-place teams and a pair of teams in various ...
April 25, 2010
The draft is over but if history tells us anything it is that the San Diego Chargers are not finished filling out their rookie class. From Antonio Gates on ...
April 22, 2010
The San Diego Chargers of the past few years have been a historically slow starting team.  The last two seasons have seen early charges by the Broncos coupled with mediocre ...
April 17, 2010
While resisting the 'mock' fracass for as long as possible, it would appear the temptation has grown too great. Before delving into a full first-round mock-up, it seemed befitting ...